BUTTERFLY DREAM DANCE GROUP AT GLOBAL FESTIVAL FOR LEARNING 17 EVENT
Hi everyone! First of all, we want to thank BINUS International and Bournemouth University for having us last Monday, March 27 2017 on your event, the 17th Global Festival of Learning. We were thrilled when the President of HIMANDA asked us to perform for this event. At first, we had no idea what the event is, or who held the event, until the leader of Butterfly Dream Dance Group (BDDG) joined the technical meeting. Turns out, we are not the only one who's going to perform, there will also be a performance from HIMJA, NIPPON, STAMANARA, and BNMC. This event held by BINUS International and with a corporation with Bournemouth University from England. It's about learning each other's culture and to build a good relationship between BINUS University and Bournemouth University, and of course between Indonesia and England.
Oh! Let me introduce you about BDDG member. There is Rani Kusuma as the leader of BDDG, Raisa Goldatama as the Co-leader, and then there are also Stefanni, Zefanya Novianti, Sansan Lestari, and Mika as the member of BDDG. We were performing Caiwei Dance, a traditional Chinese dance that tells about some angels harvesting the paddy rice.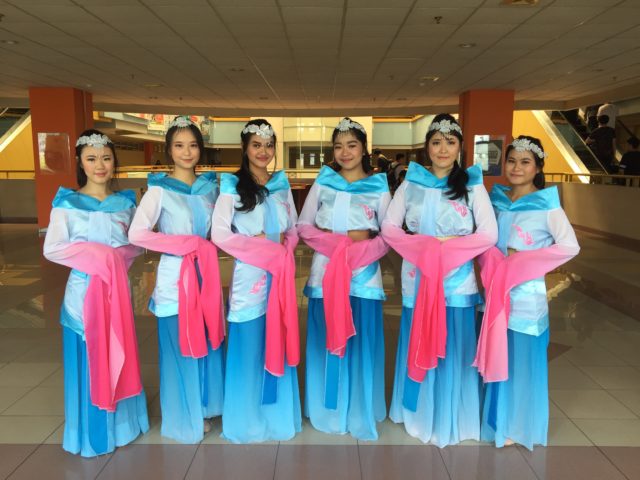 Monday, March 27, around 7 AM, we all gathered in Binus Anggrek to prepare everything. We did our make up by ourselves, luckily, we all got that skill to do our own make up, and with the help from the leader and the Co-leader. We also help each other putting on our dresses because the dress is not so easy to wear. And then our very little sister, Mika, surprised us with her Hair-do skill. We were so happy someone on the group could help us on this thing. Thank you, little sissy!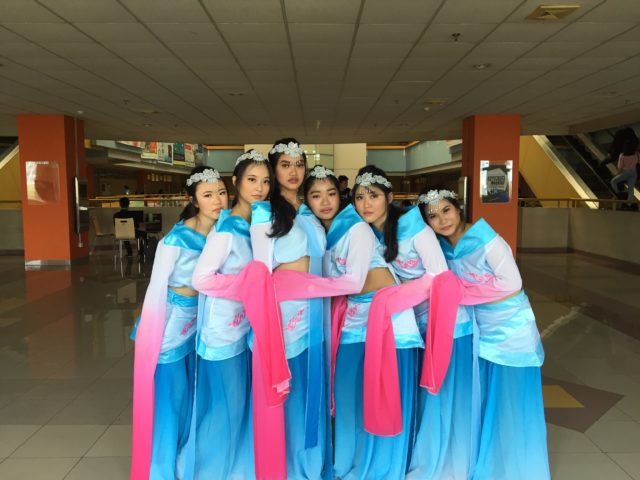 8.45, one of the committee of the event called Rani, she asked whether or not we were ready. She asked us to stand by near at the stage because the event is about to start. We were pretty nervous because there are a lot of people watching us!! We weren't sure if they're excited of watching us performing the dance, or if it was because our dress are so extra hahaha.. nevertheless, we determined to give our best to perform on this event.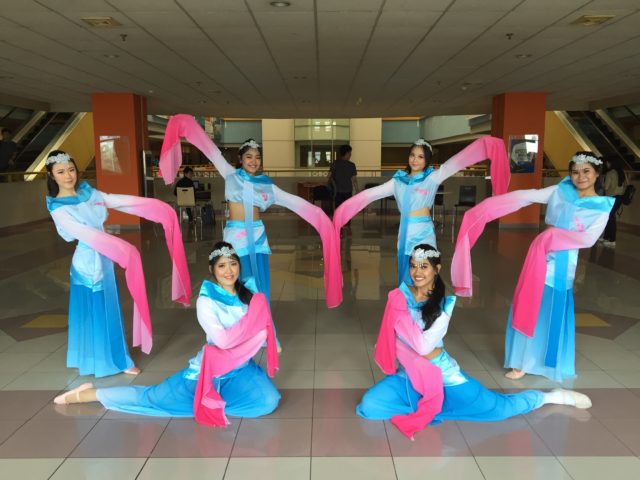 9.05, the event started, and HIMJA was the first one to perform. They were so good! And then the second one, it's us! Nervous kicked us and our heart were beating so fast! Inhale… exhale… everything is gonna be awesome. When the music started, we were all just focus to do the best. 4 minutes on stage felt like 2 seconds! We want more!!! We love performing in front of people, that is why, 4 minutes is not enough. When we finished, people clapped their hands. We were all so happy, and we really can't wait to perform again.
So, again, thank you BINUS International for having us! Hope we can perform again on your next event. See ya!