CALL FOR PAPERS: THE 2nd INTERNATIONAL CONFERENCE ON SOCIAL SCIENCES, LAW, ARTS AND HUMANITIES (ICSSLAH) 2016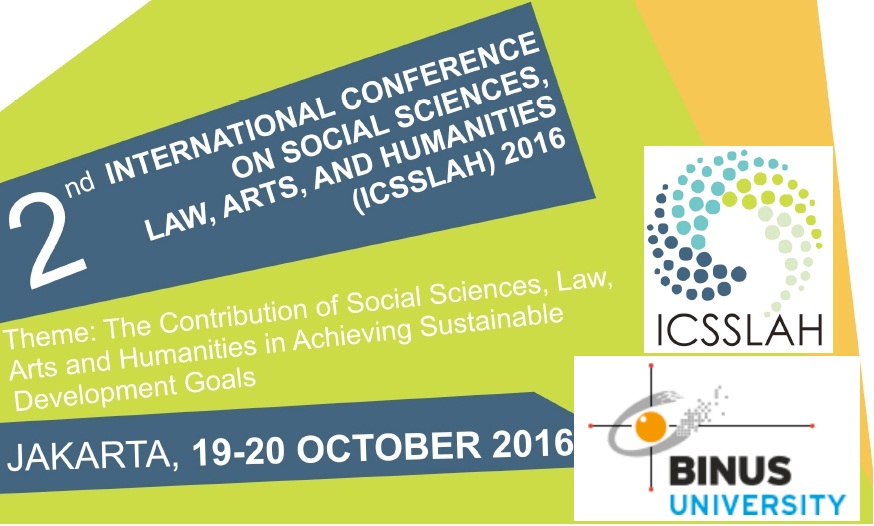 THE 2nd INTERNATIONAL CONFERENCE ON SOCIAL
SCIENCES, LAW, ARTS AND HUMANITIES
(ICSSLAH) 2016
Jakarta,19–20 October 2016
BACKGROUND
Actually, humanities are disciplines related to humanitarian values which include ethics, logic, Pancasila and citizenship education, religion and phenomenology. In general, humanities can be defined as an academic discipline which studies human condition by applying an analytical, critical or speculative method as characterized by most of natural emphirical approach and social sciences. Humanities is a study which focuses its attention to human life by stressing on the aspects of creativity, modernity, originality and uniqueness. It tries to find meaning and value that it is normative. In humanities, rationality is understood as not only a thought of an object based on theories but also imaginative things.
Humanities also reflect justice, crime and conviction. Therefore, discussing humanities means discussing legal science because it also discusses justice. Values of justice are closely related to legal science. Humanities also reflect other academic discipline, namely: psychology. It highlights various individual attitudes, problems and mental as well as efforts to solve problems faced by individual. Other discipline is social science, especially that is related to individual relation or international relation, at local and international levels.
Humanities have a broad scope and develop rapidly. Various problems within communities and at global level need humanities. Therefore, it is vital to solve various problems faced by human, state and nation.
Therefore, Faculty of Humanities of BINUS University plans to hold an international conference that will be attended by academicians and practitioners to jointly discuss various issues and researches to develop new approaches to address various humanitarian issues. Through the conference, they also will build national and global networks of scientists and practitioners of humanities.
CALL FOR PAPERS
The ICSSLAH 2016 : 2nd International Conference on Social Sciences, Law, Art and Humanities is the premier interdisciplinary forum for the presentation of new advances and research results in the fields. The conference will bring together leading academic scientists, researchers and scholars in the domain of interest from around the world. Topics of interest for submission include, but are not limited to:
INTERNATIONAL PUBLICATION
Top 100 papers will be published in international indexed journal 'PROCEDIA– Social and Behavioral Sciences'. In addition, some of them will bepublished in an accredited national journal, including Special Issue, Journal of ASEAN Studies (JAS). Some of the best papers will be promoted to Scopus Indexed international journal.
VENUE AND DATE
The conference will be held in:
Venue : BINUS University, Jakarta
Date : 19 – 20 October 2016
IMPORTANT DATE
Registration for participants         : 1 – 30 June 2016
Paper submissions for speakers  : 1 – 30 July 2016
Notification of acceptance            : 1 August 2016
Conference date                          :19–20 October 2016
CONFERENCE REGISTRATION FEE
No. Participation Type Fee
1. Presenter registration (including international publication "Procedia – Social and Behavioral Sciences) USD 200
2. Non student participant USD 50
3. Student participant USD 30
The fee includes conference kits, consumption during the conference and certificate but still excludes accommodation and transportation costs.
For further information, please visit ICCSLAH official website: